The
Gronckle
is the toughest dragon in the dragon world, and more than lives up to its looks in the battlefield.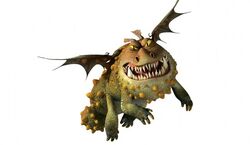 Description
The Gronckle can be a slow, lazy, and cranky bulldog-like dragon; it has been known to fall asleep mid-flight, waking only when it plunges into the sea or crashes into a mountain. Because of its tremendous weight and small wings, it would seem impossible for them to fly. However, because the wings of a Gronckle beat at a speed similar to that of hummingbirds' or bees' wings,  it is possible for one to sustain flight. In fact, a Gronckle can fly backwards, sideways and even hover in place. Its tail can be mistaken for the head if little attention is paid.
It is also prone to dragon acne. Because of its large stout body and clubbed tail, the Gronckle somewhat resembles an Ankylosaurus. They spend the majority of the day sleeping. It has huge jaws which it uses to hold food when carrying it to the dragon mound. It has a rather blunt nose horn and fairly stubby toe claws. Its legs are practically useless in battle, and due to its short tail it has a fairly small attack range.
Gallery
Link